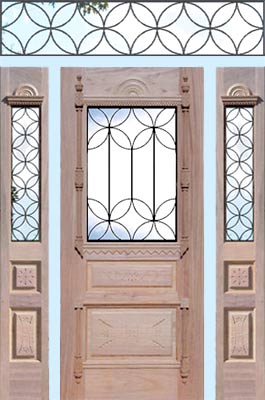 "VICTCOL5E" VICTORIAN REPRODUCTION MAHOGANY DOOR AND SIDELIGHTS WITH CUSTOM STAINED AND LEADED GLASS WINDOWS CUSTOM AT GLASS BY DESIGN.
Entry with Victorian reproduction mahogany door and sidelights with leaded glass windows.
The details in the woodwork in this entry are carved and turned by hand, the old fashioned way.
Choose your own colors and sizes.
Panels are made to fit your openings.
Custom stained glass windows and doors,
beveled glass, enties, sidelights, transoms,
leaded beveled glass, etchings, mosaics,
religious themes.
These are NOT imports! See the quality!
ALL WORK IS CUSTOM!