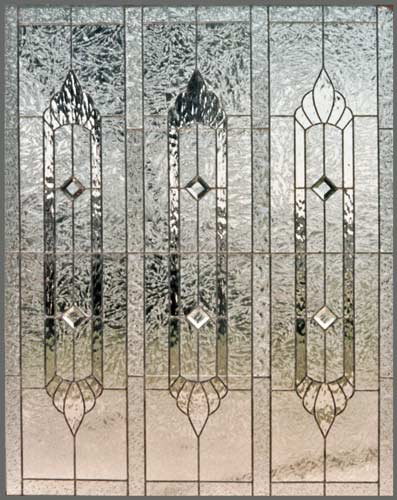 "BIG115" LARGE LEADED GLASS PRIVACY WINDOW CUSTOM AT GLASS BY DESIGN.
Large leaded glass privacy window was 48" x 60".
The price for this window custom made to your dimensions at this scale would be $205 per square foot.
This was clear textured glass chosen for privacy beside a garden tub.
This design can be reduced in width by eliminating one or two of the vertical sections. It also has vertical space to play with.
Choose your own colors and sizes.
Panels are made to fit your openings.
Custom stained glass windows and doors,
beveled glass, enties, sidelights, transoms,
leaded beveled glass, etchings, mosaics,
religious themes.
These are NOT imports! See the quality!
ALL WORK IS CUSTOM!