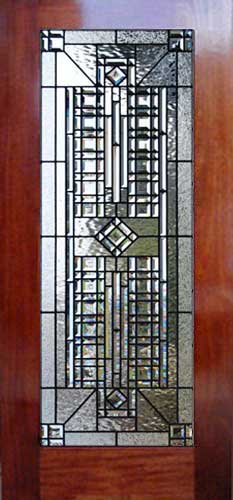 "ABSTRACT 37D" PENCIL BEVELS LEADED GLASS ABSTRACT DOOR WINDOW CUSTOM AT GLASS BY DESIGN.
Leaded glass abstract door window with pencil bevels and clear textured glasses was 21" x 60".
This leaded glass door window consisted of many pencil and other bevels, Waterglass, and gluechip glass.
The price for this window custom made to your dimensions at this scale would be $220 per square foot.
The outer border of this leaded glass window was double chip gluechip glass. Waterglass filled in the background around the pencil bevels.
This design is very flexible and can be adapted to most any size.
We offer custom doors, but we can build windows to fit most any door or opening.
Choose your own colors and sizes.
Panels are made to fit your openings.
Custom stained glass windows and doors,
beveled glass, enties, sidelights, transoms,
leaded beveled glass, etchings, mosaics,
religious themes.
These are NOT imports! See the quality!
ALL WORK IS CUSTOM!